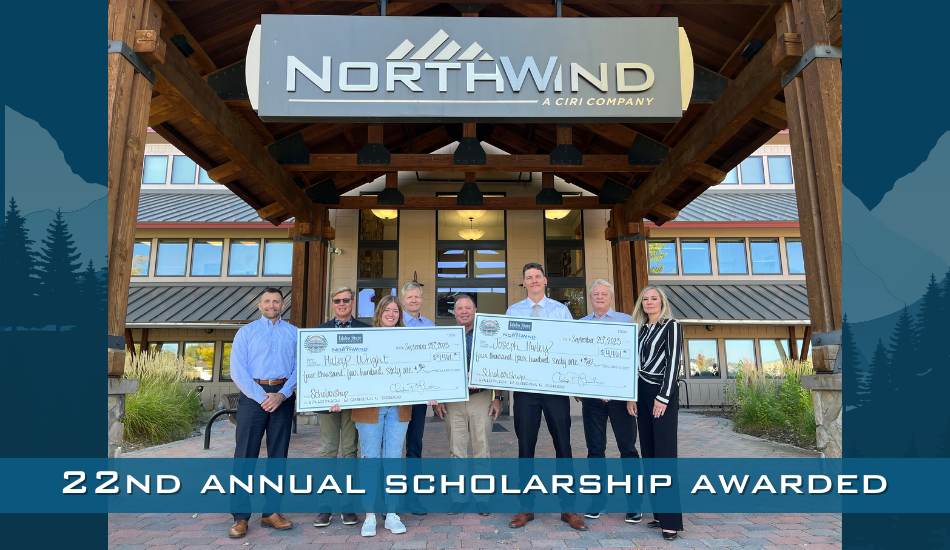 North Wind Awards 22nd Annual Scholarships to ISU Students
The 22nd Annual North Wind/Idaho State University Tom Sherwood Scholarship was recently awarded to two Idaho State University (ISU) students, Haley Wright and Joseph Hively, for $4,461 each. In addition to the Sherwood scholarship, North Wind is proud to announce the addition of a new Science, Technology, Engineering, and Math (STEM) Scholarship Endowment, to help support and inspire ISU students to pursue further education in the fields of STEM. The first annual ISU STEM Scholarship was awarded to Levi Farber for $2,087.
"North Wind is proud to continue the partnership with ISU to expand the scholarship and reach to students in STEM majors. We feel the investment into these scholarships, is important to our industry's future leaders," said North Wind Group President/CEO, Christopher P. Leichtweis. 
Haley is a junior at ISU, obtaining her Bachelor of Science degree in Geology. Growing up hiking, camping, and watching the sun set out of her back door every night, Haley chose to study geology because of her curiosity in how the natural world was formed and why it is the way it is, "especially in relation to rock formations." "Receiving the Thomas R. Sherwood scholarship ensures that I am able to continue to study geology here at ISU and in doing so, helps me on my journey beyond," Haley stated in her essay.
Joseph is second-year Sherwood Scholarship awardee, and currently a sophomore at ISU, obtaining his Bachelor of Science in Biology with a concentration on ecology and conservation biology. Joseph says he was led to pursue a degree in ecology from his time spent in the Rocky Mountains pursuing fish or game, working with the United States Forest Service, and engaging with his two sons in the outdoors. "Being able to witness the varying lifecycles of the members that comprise our local ecosystems; the impact that each member has on the ecosystem and how these impacts relate to us, has always been something thought provoking and humbling," Joseph stated in his essay.
Levi is a senior honors student obtaining his degree in electrical engineering. He is specifically interested in operational technology for industrial applications and national security. Before enrolling at Idaho State University, Levi graduated summa cum laude with an Associate of Science in physics from Chattanooga State Community College in 2022, where he worked as a math tutor for college students on weekdays and supported local community efforts to help struggling high school and middle school students in both reading and math subjects on the weekend. Over the summer, he interned with Idaho National Laboratory, working with the Department of National and Homeland Security, ensuring the security of our nation's critical infrastructure. Before attending college, Levi served honorably in the United States Marine Corps, ensuring the security of Department of State missions while overseas and maintaining weapons fire control systems. Upon receiving his scholarship Levi said, "With this scholarship, I will be able to focus more on my classes and not take on any additional student debt as I attend ISU. Thank you for your generous and much-needed support for my education. The difference you have made in my life is beyond what I can say in words."
Tom Sherwood was one of North Wind's first employees and was the Geosciences Department Manager until his untimely death in 2000. He was a skilled outdoorsman with a passion for geology and the environment. He graduated from ISU in 1992 with degrees in geology and biology. The scholarship endowment was established by North Wind with contributions from the company, Tom's friends and colleagues, and proceeds from previous golf tournaments.