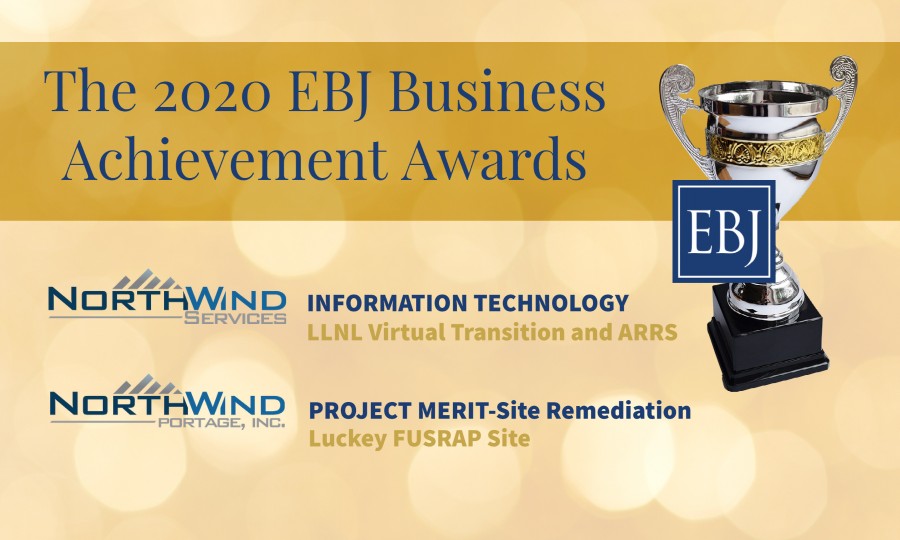 North Wind Receives 2020 EBJ Business Achievement Awards
Environmental Business Journal Recognizes Environmental Industry Firms for 2020 Performance and Innovation
Idaho Falls, ID. (February 2021) — Environmental Business Journal® (EBJ), a business research publication which has provided strategic business intelligence to the environmental industry since 1988, has honored North Wind Portage, Inc. LLC with a 2020 EBJ Business Achievement Award for Project Merit–Site Remediation and North Wind Services, LLC with a 2020 EBJ Business Achievement Award for Information Technology.
North Wind Portage and North Wind Services are subsidiary companies of North Wind Group. "To be recognized among our industries best is a true accomplishment," said Chris Leichtweis, President/CEO of North Wind Group. "The team at North Wind believes in continuous improvement that enhances our offering and performance to our customers."
North Wind Portage was recognized for reaching completion of the Phase I cleanup at the Luckey Formerly Utilized Sites Remedial Action Program (FUSRAP) Site on July 31, 2020, when the 5,000th truck left the site loaded with material contaminated with beryllium, radium-226, thorium-230, uranium-234, uranium-238, and lead. North Wind Portage began shipping FUSRAP-related material from Luckey in June 2018 for the U.S. Army Corps of Engineers (USACE) Buffalo District. The project excavates, packages, transports, and disposes approximately 1,155 tons of contaminated soil per week – and has maintained that production throughout the COVID-19 pandemic. Since the cleanup contract award in 2015, and through January 31, 2021, North Wind has worked over 430,000 hours without a lost time accident; removed over 120,500 tons of contaminated soil, sediment and debris from the site; shipped 6,730 containers, and logged over 975,000 safe miles to and from the landfill; and released and restored 6.5 acres of the site. The entire site cleanup is approximately 50% complete.
The North Wind team has "overcome incredible technical challenges and worked safely and efficiently to achieve this important milestone, while completing some of the most hazardous cleanup work across the complex," said Jeff Scott, President of North Wind Portage. "We sincerely appreciate their hard work, dedication to safety, and our partnership with USACE–all of which made this significant achievement possible."
North Wind Services was recognized for completing the transition of the 435-person Supplemental Labor Contract at the Lawrence Livermore National Laboratory (LLNL) in August 2020. During transition, North Wind's IT Department developed a new electronic software application to replace a paper-based process with a fully digital web-based system requisition and recruitment of supplemental labor in the Applicant Routing & Recruiting System (ARRS). The ARRS was designed and developed in-house based upon requirements received from customer interview sessions during transition. The system provides full traceability of all requisitions as they move through the approval processes from posting to interviewing and hiring and produces data and metrics for the Project Dashboard. In addition to ARRS, North Wind also developed an automated business data integration system which interfaces with LLNL's Oracle and Peoplesoft systems called the Livermore Integration and File Transfer (LIFT) system. This allows for Oracle to Costpoint integration enabling paperless collection, approval, and three-day invoicing of time and expenses.
Since August, North Wind has processed over 108,000 hours and over five million data records, including processing dozens of interfaces between North Wind and LLNL weekly. "These two key information management systems were critical for a successful transition," said James Furr, North Wind Services President and Chief Information Officer. "The IT Team met the COVID-redistricted challenges head-on and delivered both systems on-time; I am extremely proud of this team."
"2020 was certainly an exceptional year for our society, the economy and the environmental industry," said Grant Ferrier, president of Environmental Business International Inc. (EBI, Inc.), and editor of Environmental Business Journal. "Unique enough that we added two major categories to the EBJ Awards: COVID Resilience that recognizes companies that adapted to work-at-home, travel, field services and other restrictions, as well as rapidly changing client needs; and COVID Response that recognizes companies that developed or accelerated new business initiatives, innovations and entire business units to support the environment, health & safety needs of their diverse client sectors."
The EBJ Business Achievement Awards customarily recognize business performance in conventional metrics like revenue growth, M&A, exceptional projects, technology development and deployment in the field, and advances in information and digital technology, and these categories are well represented in 2020.
2020 was also a unique year in that it represented what EBJ determined was the 50th Anniversary of the Environmental Industry as a collection of 13 increasingly integrated segments in a $401-billion industry in the United States. Historical relics show active waste management practices in Native American communities, and water and wastewater systems date back to pre-Roman history, but the environmental industry as we know it dates back to the foundation of EPA, and many of the companies that make up the Environmental Consulting & Engineering segment in 1970.
The year 2020 was the 50th anniversary of United States Environmental Protection Agency (EPA), and the institution of the National Environmental Policy Act (NEPA), the President's Council on Environmental Quality (CEQ) and other environmental protection initiatives at state and federal level that endure today. The year 1970 also represents the foundation of several companies that still flourish today, and EBJ recognizes many of these companies in a 50-Year Recognition awards for companies founded in 1970 or thereabouts.
The 2020 EBJ awards will be presented at a virtual Zoom ceremony on February 11th and 12th, 2021, free to the entire environmental industry community. EBJ Business Achievement Awards are customarily presented in person at EBI's annual Environmental Industry Summit. In 2020 the Environmental Industry Summit XVIII was postponed from its usual mid-March dates and held online September 9-11, 2020. The expectation is for resumption of in-person events in 2021 starting with Environmental Industry Summit XIX on September 22-24, 2021.
* Environmental Business Journal provides strategic information and market forecasts for executives involved in 13 business segments, including environmental testing, water & wastewater, air pollution control, environmental consulting & engineering, hazardous waste, remediation, instrumentation, pollution control equipment, waste management, resource recovery, and solid waste management.
North Wind is one of the nation's leading small businesses providing engineering, construction, environmental, and technical services to federal and state agencies and private industry. Founded in 1997, North Wind has grown to a group of companies that employ more than 2,000 professionals across the scientific, engineering, management, construction, consulting, and craft industries. Headquartered in Idaho Falls, Idaho, North Wind is a wholly owned subsidiary of Cook Inlet Region, Inc. (CIRI), an Alaska Native Corporation (ANC) and operates from more than 35 offices across the continental U.S., Alaska, Hawaii, and Guam.
Visit https://ebionline.org/2021/01/19/2020-ebj-business-achievement-awards/ for a full list of awardees.