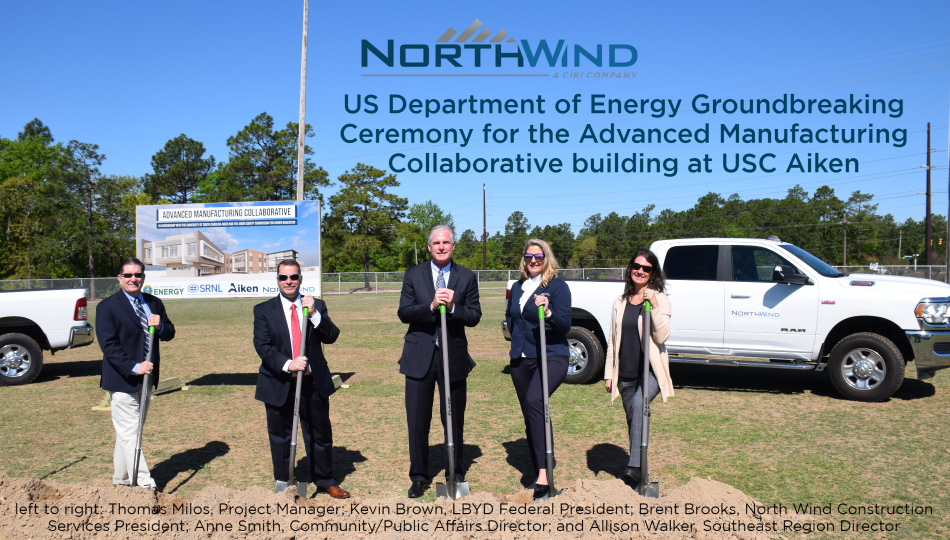 North Wind Participates in DOE Groundbreaking on AMC
Idaho Falls, ID – On Tuesday, April 19, 2022, North Wind participated in the Advanced Manufacturing Collaborative (AMC) Facility groundbreaking ceremony at the University of South Carolina Aiken (USC Aiken) Campus.
The AMC will be a $50 million-dollar state-of-the-art innovation hub for manufacturing, fostering modern industrial practices, advancing new technologies, and training the future manufacturing workforce focusing on chemical and materials manufacturing. The AMC combines the unique capabilities of the Department of Energy's (DOE) National Laboratories, industrial enterprises, and educational institutions such as USC Aiken to drive the long-term sustainability of the U.S. manufacturing sector.
Local officials along with leaders from DOE, Savannah River National Laboratory (SRNL), USC Aiken, and North Wind, took part in the ceremony (pictured below).
Pictured (left to right) Teresa Haas, chair, Aiken County Commission for Higher Education; Dr. Daniel Heimmermann, chancellor, USC Aiken; Bart Blackwell, South Carolina State Representative; Brent Brooks, president, North Wind Construction Services; Dr. Vahid Majidi, director, SRNL; Congressman Joe Wilson, U.S. Representative South Carolina; William "Ike" White, Senior Advisor for the Office of Environmental Management; Dr. Sandra Jordan, former chancellor, USC Aiken; Gary Bunker, chairman, Aiken County Council; Mike Budney, Manager, Savannah River Operations Office; and Tony Polk, director, Savannah River Laboratory Office.
The DOE Office of Environmental Management (EM) published a press release with the following information about the event:
USC Aiken Chancellor, Dr. Daniel Heimmermann, thanked the Department and the Aiken County Commission for Higher Education for locating the AMC on the USC Aiken campus and bringing together academia, industry, and the National Laboratories across the manufacturing sectors.
"The realization of the AMC is a win-win for the Department and for a unique community that has played such a key role in our national security, science, and energy missions for decades," said William "Ike" White, Senior Advisor for the Office of Environmental Management. "As the center for academic, commercial and government collaboration, the AMC will foster scientific and technology innovation while building the next generation workforce in a state-of-the-art facility."
The 60,000-square-foot facility will not only provide new laboratory, office, and conference space suitable for advanced manufacturing research and development, but more importantly, it will house collaborative and research and development spaces for spinning innovative technologies into the Department and spinning them out into the commercial sector.
For the full DOE EM press release click here: https://www.energy.gov/em/articles/doe-breaks-ground-advanced-manufacturing-collaborative
Thomas Milos (pictured here) is North Wind's Project Manager for the construction of the new building.