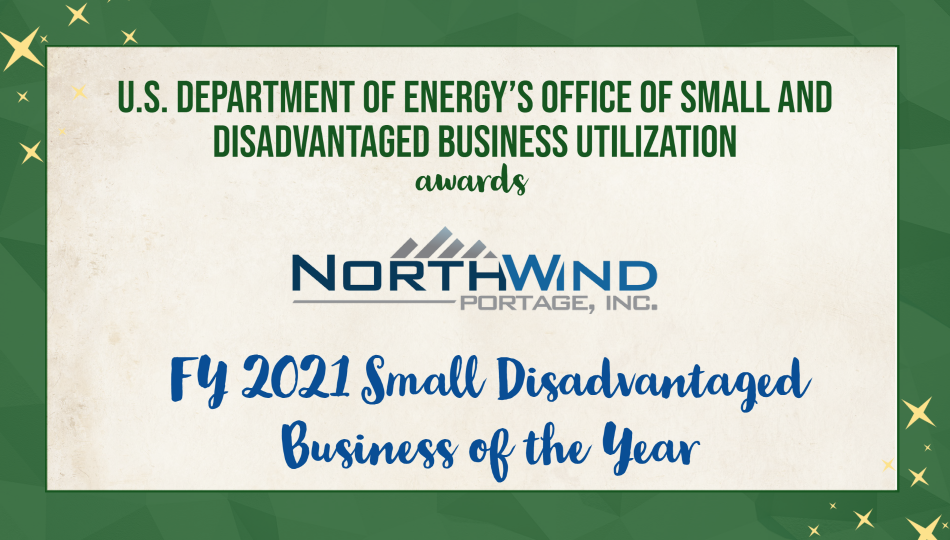 North Wind Portage Receives DOE OSDBU Award
Idaho Falls, ID – North Wind Portage, Inc. receives the 8(a)/Small Disadvantaged Business of the Year from the U.S. Department of Energy (DOE) Office of Small and Disadvantaged Business Utilization (OSDBU) FY 2021 Annual Small Business Award Program.
This award recognizes the outstanding performance of a Small Business Administration-certified 8(a) and/or Small Disadvantaged Business, for exceptional performance in activities contributing to core DOE mission accomplishments.
In FY 2021, North Wind Portage's performance was exceptional at two DOE-EM cleanup projects at sites in Utah and California.
In Utah, North Wind Portage implemented innovations resulting in the shipment of an additional 540 tons of Residual Radioactive Material (RRM) per week. In April 2021, the project achieved its largest weekly shipment to date of 21,092 tons and sustained similar production through the remainder of FY 2021. North Wind achieved a 9% production improvement, which will result in a 9-month acceleration to closure and a savings of more than $40M.
In California, North Wind Portage teamed with stakeholders to ensure demolition continued without work shutdowns after the demolition, schedule, and waste disposal approach was changed. Through this partnership, North Wind Portage was able to submit and obtain approval of various plans in days as opposed to weeks. The team worked diligently and safely met the EM 2021 priority to complete demolition of all DOE-owned buildings at the site ahead of schedule.
You can read more on the DOE OSDBU site at https:/www.energy.gov/osdbu/annual-small-business-awards-program
North Wind is one of the nation's leading small businesses providing engineering, construction, environmental, and technical services to federal and state agencies and private industry. Founded in 1997, North Wind has grown to a group of companies that employ more than 2,000 professionals across the scientific, engineering, management, construction, consulting, and craft industries. Headquartered in Idaho Falls, Idaho, North Wind is a wholly owned subsidiary of Cook Inlet Region, Inc. (CIRI), an Alaska Native Corporation (ANC) and operates from more than 35 offices across the continental U.S., Alaska, Hawaii, and Guam.