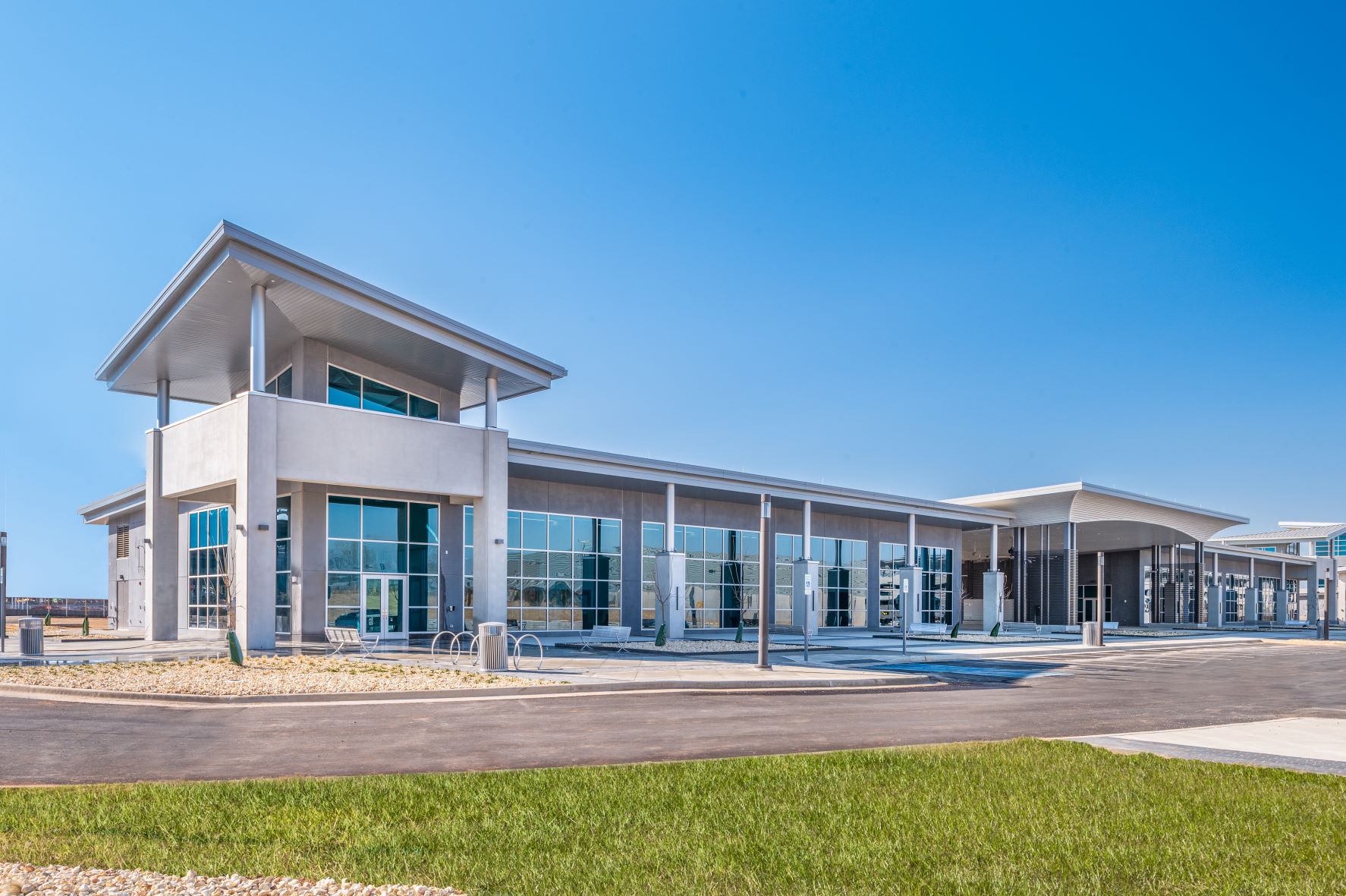 North Campus Commons and Technology 1
Our team designed two 11,000 SF facilities, connecting Pavilion and the four-story, approximately 80,000 SF Technology Center. Technology 1 consisted of four stories of advanced communication center with training spaces and lab work areas. The complex is three separate single-story buildings, Type IIB construction consisting of structural steel framing with open web steel joists, architectural precast panels, and standing seam metal roofing.
Technology 1 houses various user groups that serve a variety of administrative functions. The majority of the building's square footage is dedicated to secure administrative office space. These areas primarily include secure work areas that house up to 60 employees, secure server rooms, a tiered office space with a central video wall, raised access flooring, secure and open conference rooms, smaller group rooms as well as a support core for each open office area. The building support spaces include mechanical, electrical and telecommunication rooms.
The Fitness facility includes open workout areas for cardio and weight/HIIT training as well as rooms for group exercise and spinning. This building also includes male and female locker rooms, showers, toilets and sinks, unisex toilet with shower, a wellness room, reception area, office, and support functions (storage, janitor's closet, laundry, mechanical room, electrical room, and comm room).
The 12,000 SF Pavilion is an open-air multi-purpose space with A/V capability. The approximately 11,000 SF North Campus Commons facility includes areas for open dining, a kitchen and café for food prep, a gift shop, leasable space, male and female restrooms, and support functions (indoor and outdoor storage, janitor's closet, mechanical room, electrical room, and comm room). Additionally, 3,000 SF of this building will be constructed as a shell for future upfit.
This project was designed and constructed to LEED Silver standards.
Multi-Purpose Building and Parking Deck
Our team served as designer of record for the design and construction of an 11,778 SF, single-story 300-seat multi-purpose facility that included the design of a secure work area and conversion of the building from an office to a multi-purpose use. In addition, the project consisted of the design of a five-story 1400-stall parking deck that conforms with relevant UFCs, NFPA, IBC, POR, etc. The parking deck design incorporates architectural precast panels on the exterior to cohesively incorporate features from the surrounding buildings on campus while depressing one level of parking below grade to aid in the campus composition and mitigate the oppressive size of the facility in relation to adjacent buildings. In addition, the enclosed stairs and elevator lobbies are wrapped with storefronts to create moments of interest while defining pedestrian access as well as an articulated roof canopy holding the perimeter of the building footprint.
Operation Support Building 1 and Central Utility Plant
As part of the continued development, our team was contracted to develop the bridging documents for a new 310,000 SF Operations Support Building 1 (OPS1) supported by a new 12,000 SF Central Utility Plant (CUP1) that will also support numerous facilities on the North Side of the North Campus. From the civil side, our team designed the civil and utility plans for the North campus under the North Area Infrastructure Project, including storm drainage, roadway infrastructure, and sanitary sewer design.