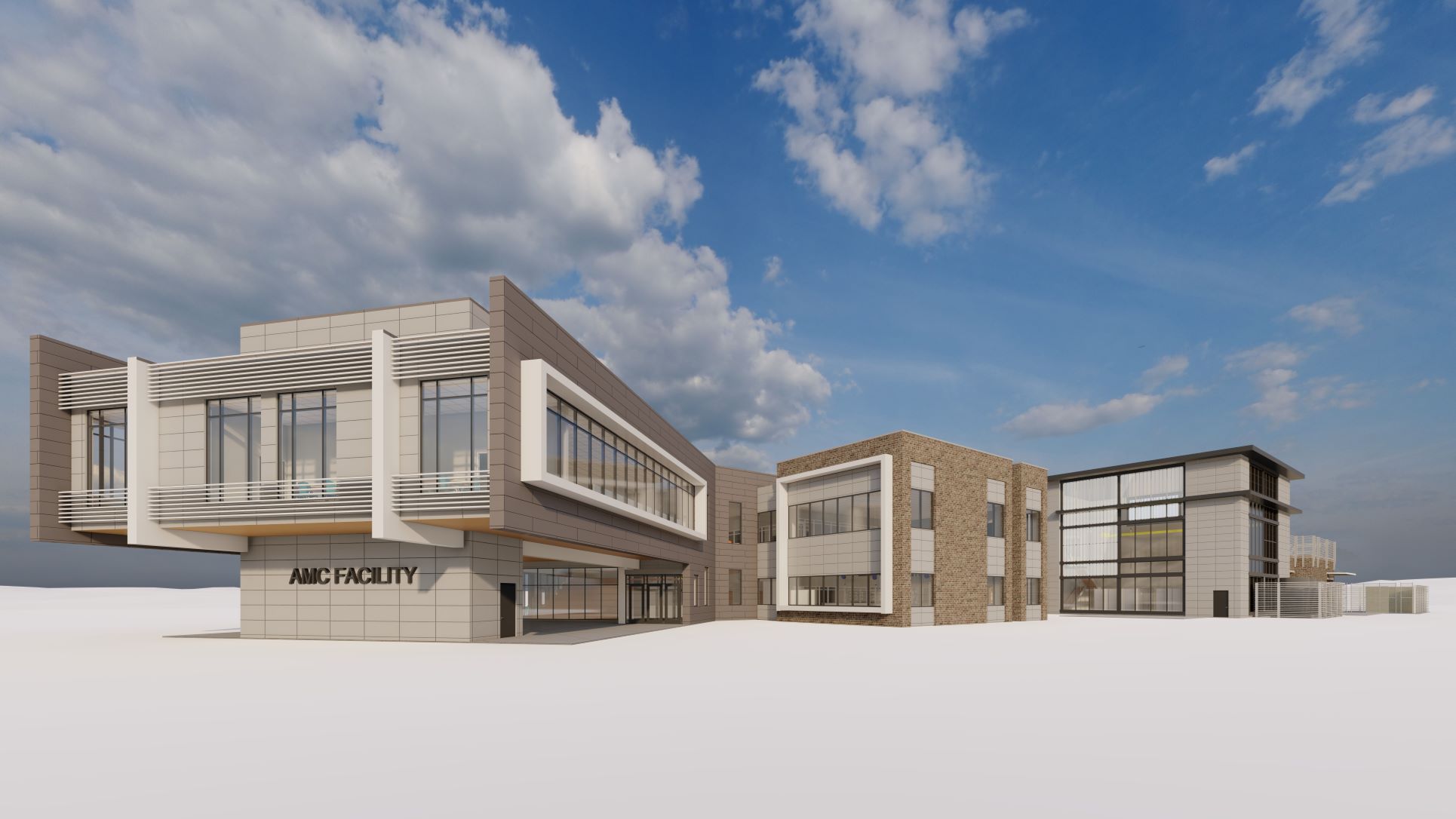 Advanced Manufacturing Collaborative (AMC) Facility
University of South Carolina, Aiken, South Carolina
The Advanced Manufacturing Collaborative (AMC) Lab Facility is a state-of-the-art research and development laboratory building sponsored by the U.S. Department of Energy (DOE) that will support collaboration between the Savannah River National Laboratory (SRNL), University of South Carolina Aiken, Private Industry Partners, Academia, and Government Agencies at the Local, State and Federal Level. This facility will promote an exchange of knowledge and innovation to further the goal of future research and development in support of the DOE mission.
The STOA/Page Architecture team led a design charrette with key personnel and decision makers which helped to mutually establish organizational, functional, and agency goals. The AMC lab design will ensure the creation of an iconic building with high visibility to the public that serves as a "Campus Gateway" and a state-of-the-art facility for evaluating and translating advanced manufacturing technologies. The building will utilize the site constraints to allow for optimal collaboration between the entities involved; provide faculty and students, and other potential users spaces to meet; provide maximize flexibility within the lab spaces to support changing research focus and grant-supported initiatives over time; provide an energy-efficient, expandable, low-maintenance building; fully integrate technology and support flexibility of use over time; combine open and closed labs with office space; encourage visualization and demonstration spaces; embrace sustainable design principles and construction practices; and meet established laboratory sustainability design standards. Design discussions reflect an overall gross building area of approximately 58,600 SF.
The Laboratory types include Bench Labs, High Bay Labs, Computational Labs, and Industrial Engineering Labs. The labs will be oriented with an 11′ module and positioned back-to-back, where possible, to encourage inter­ action and flexibility between spaces and accommodate the growth/reduction of lab sizes over time. To facilitate the design process, our Team presented "Design Inspiration" images for various Collaboration spaces identified to be included in the AMC building. The images were intended to challenge the notion of how these types of spaces are commonly interpreted and, through open discussions about the images, allow the design team to better understand the functional, operational, and spatial needs of the clients for the space.
The offices will be bright and airy spaces that maximize natural daylighting in a modern hi-tech work environment. The spaces will accommodate various types of workspaces including open office areas, formal and informal spaces to facilitate meetings and collaboration between agencies, a large multi-purpose classroom space, and formal meeting areas which will include large, medium, and small conference rooms. Informal meeting areas strategically positioned within the public do­main of the building will encourage small group gatherings and knowledge sharing in an open environment. The inclusion of a versatile collaboration stair offers varied seating, gathering, and discussion arrangements to facilitate impromptu meeting opportunities.
The interior finishes will be selected to support the design goals and enhance the building architecture. Practical, low-maintenance, and enduring materials will be chosen that create an inviting, comfortable, and modern work environment. Careful attention will be given to the design details and selection of materials to support integrated technologies and capture the state­ of-the-art research and development performed within. The project will be designed and constructed to achieve Gold certification using USGBC LEED Building Design and Construction rating system for New Construction/Major. Est. Construction.