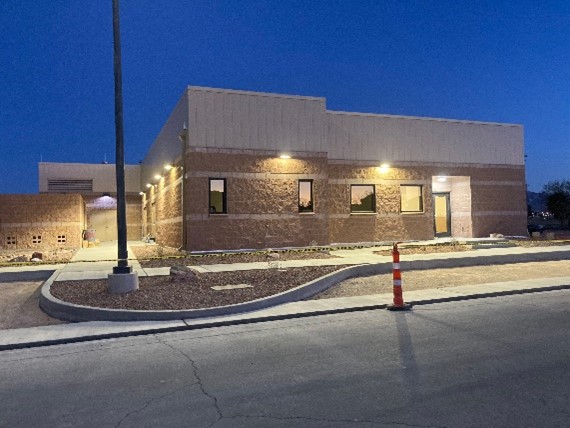 Contractor-Owned, Contractor-Operated (COCO) Adversary Air (AdAir) Building 1770B Addition/Renovation
Nellis Air Force Base, Nevada
This was a task order project to design and construct a 3,300 SF new construction addition to the east side of Building 1770B, consisting of ten rooms and hallways. Rooms include two briefing rooms, a ready room, an office, scheduling, operations, training, mechanical/electrical, Air Flight Equipment (AFE), and AFE back shop. The design included a reinforced concrete slab and footings, concrete masonry unit (CMU) walls, roof, ceilings, doors, heating, ventilation, and air conditioning (HVAC), electrical, lighting, communications and fire protection systems, and mass notification system (MNS). LBYD Federal was the Designer of Record (DOR) and provided design services to sister-affiliate construction company, North Wind Construction Services, to complete the new construction building addition. Design-related activities were completed in 2020 within budgetary and schedule constraints, and according to local requirements, codes and regulations, and Unified Facilities Criteria (UFC). The LBYD Federal team provided architectural, civil, structural, fire alarm, lighting, and mechanical, electrical, and plumbing (MEP) design drawings as well as a complete set of as-built drawings upon completion of construction.
LBYD Federal also provided construction phase services including construction submittal reviews to ensure compliance with design requirements and specifications. The general tasks completed on this project included the site investigation (i.e., survey, utilities, and geotechnical); occupied administrative building design development; and preparation of all associated procurements and new construction documents (i.e., final drawings, specifications, construction estimate with performance time, and bid schedule), along with construction, on-site inspection, and Quality Control (QC) support. Notable design considerations included blast-rated structural steel support for door openings and windows according to antiterrorism/force protection (AT/FP) requirements; new doors, openings, and hardware with closing mechanisms; and a storefront assembly that met the AT/FP requirements. We supervised the vendor to design, install, test, and commission the new fire alarm and MNS for the entire building, including an upgrade to the existing fire alarm/MNS within the two secure work environments, compliant with UFC 3-600-01 and UFC 4-021- 01. An automated detection and notification system was also installed to comply with owner requirements and life safety codes. LBYD Federal designed, procured, and installed the new lightning protection system and grounding ring in accordance with UFC and National Fire Protection Association (NFPA) 780 master label certificate, which was certified by the system vendor. Percent of work self-performed: As the Lead Design Firm (LDF)/DOR, LBYD Federal self-performed 63% of the design, including all architectural, civil, structural, mechanical, plumbing, and electrical. Fire protection and fire alarm/MNS design services were performed by our local partners.
Preliminary and detailed engineering design packages, including drawings and construction specifications, were developed including the 35%, 65%, 95%, and 100% submittals. The design adhered to applicable AT/FP, UFC, and Nellis AFB Installation Facilities Standards (IFS). The new Fire Alarm/MNS was upgraded in the entire building, which contains two secure work environments, which required LBYD to follow Intelligence Community Standard (ICS) 705-1. Each submittal was reviewed by the Government personnel, including building stakeholders. Meetings with stakeholders were held periodically to discuss comments. This stakeholder engagement ensured the design was meeting contractual requirements and in alignment with the stakeholder requirements. Engineering design calculations included structural load, HVAC load, ductwork sizing, electrical load, utility piping size, and stormwater runoff calculations. These calculations were presented in the Technical Analysis report, which was submitted with each design submission. The Technical Analysis documented project requirements and Basis of Design. The rationale design and equipment-related decisions were also included. During construction phase services activities, LBYD Federal engineers played a key role by reviewing and approving all construction contractor submittals, including equipment cutsheets and product specifications, to confirm compliance with the contractual and design requirements. The engineering team participated in Coordination Meetings during the construction phase so that the project team could consult with the engineering staff. Following construction activities, LBYD Federal completed as-built drawings to document what was constructed and any design changes.