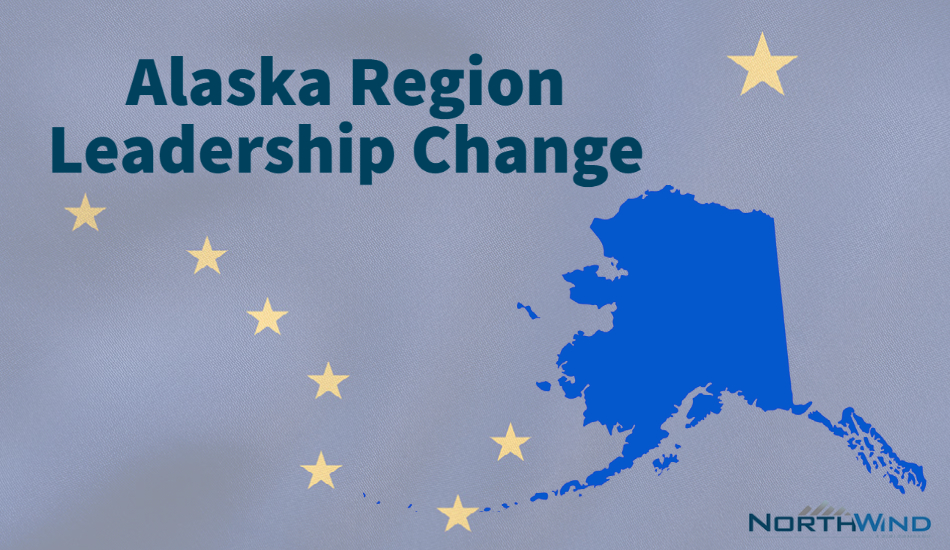 North Wind announces a reorganization of the operations management team in Alaska. James Stelling is being promoted to the Alaska Regional Director, taking the place of Jim Pulkrabek who we sadly and unexpectedly lost after a valiant battle with cancer. James joined North Wind as a Senior Estimator and eventually moved into Operations as a Deputy Regional Manager and was mentored by Jim for the past two years. James brings over twenty years of experience in Alaska with construction and environmental projects.
Supporting James will be Deputy Regional Manager for Construction and Facility Services, Craig Waller. Craig's Air Force background has proven invaluable in winning and executing work out of Alaska over the past ten years. Complementing the expertise of the team will be Renee LaFata, Deputy Regional Manager for Environmental. Renee has over twenty years of experience in a variety of environmental projects in all corners of Alaska.
Alaska Regional Director
James Stelling brings over 28 years of experience in managing and estimating complex construction projects for both federal entitites and in the oil and gas sector. He has extensive experience partnering with the Government on design-build and design-bid-build federal construction projects as well as heavy civil development and operational work, which involves major facilities, pipelines, roadways, railroad, and wetland mitigation with emphasis on labor utilization, equipment operations, and maintenance. His project management approach incorporates project analysis of resources to execute optimization of time and money management.
Mr. Stelling earned his Project Management Professional (PMP) Certification, has an BS in Applied Technology Leadership, an AAS in Architectural and Engineering Technology, and has studied Civil Engineering at the University of Alaska.
Deputy Alaska Regional Director – Construction & Facility Services
Craig Waller, PE, CEM, PMP has more than 29 years of management experience including contingency engineering, environmental restoration and compliance, sustainability, housing privatization, and real property. His positions have included Project Manager, Program Manager, and a Contracting Officer's Representative for the Air Force.
Mr. Waller has an MS in Electrical Engineering from the University of Notre Dame and has completed the USACE Construction Quality Management (CQM) Certification.
Deputy Alaska Regional Director – Environmental
Renee LaFata has more than 20 years of professional experience with complex environmental investigation and remediation contracts. She has completed more than 100 environmental investigations and remediation services for government and private entities. Ms. LaFata's experience enables her to integrate management objectives with field conditions on complex projects, providing clients with cost-effective and best value implementation.
Ms. LaFata has a BA in Biology from Southern Illinois University and is an ADEC Qualified Environmental Professional.