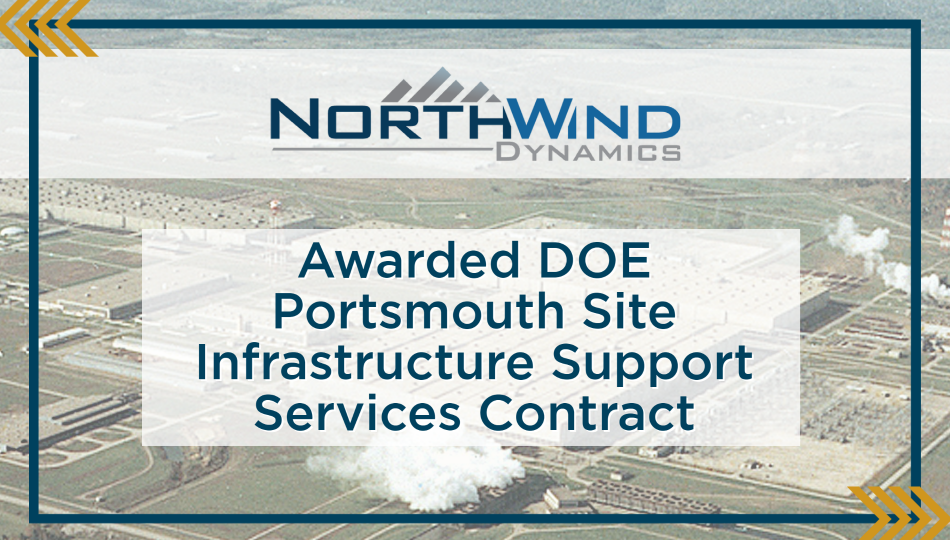 North Wind Begins Transition of Newly Awarded Portsmouth Infrastructure Support Services Contract
Idaho Falls, Idaho – North Wind Dynamics (North Wind) was recently awarded the Portsmouth Infrastructure Support Services (ISS) contract in Piketon, Ohio by the Department of Energy (DOE) Office of Environmental Management (EM). The contract is valued at over $135M spanning a 34-month base and a two-year option period. North Wind initiated the transition of the new contract in early January 2022 and looks forward to assuming full operational responsibility by mid-February.
The ISS contract involves wide-ranging support services at the Portsmouth Site, including: Surveillance, Maintenance, and Repair and Construction/Replacement of Facilities; Janitorial Services; Grounds Maintenance, Snow Removal, and Pest Control; Roadway, Parking and Lot Maintenance; Computer, Telecommunication and Cybersecurity; Fleet Management; Real Property Management; Records Management and Document Control; Safeguards and Security; Environmental Safety, Health, and Quality Program; Training Services; and Mail, Shipping and Receiving.
The new contract will replace the current ISS contract, held by North Wind-led Portsmouth Mission Alliance, LLC (PMA).
"North Wind is honored to be reselected for the Infrastructure Support Services work at the Portsmouth Site. The vision of our leadership and determination of our workforce are true measures of North Wind's success at Portsmouth and elsewhere across the DOE-EM complex," said John Bukowski, North Wind President.
To read the full DOE-EM press release from DOE, click here.
Recently, PMA was awarded the 2021 EPEAT Award by the Assistant Secretary for DOE-EM. The award celebrates leaders in sustainable electronics procurement. The award comes from the Global Electronics Council and supports DOE's initiatives to promote green information technology. EPEAT allows DOE PORTS to efficiently address the lifecycle impacts of the electronics purchased, including computers, displays, printers, copiers, network equipment, mobile phones, servers, photovoltaic modules, inverters, and televisions.
As one of DOE's prime contractors, North Wind provides services across its primary business lines of engineering, construction, environmental services, facilities operation and infrastructure, and IT/cyber enterprise management. North Wind is part of a multi-company enterprise, employing more than 2,200 professionals at 40 offices across the continental U.S. and throughout the Indo Pacific Rim region. Headquartered in Idaho Falls, Idaho, North Wind is a wholly owned subsidiary of Cook Inlet Region, Inc., an Alaska Native Corporation.