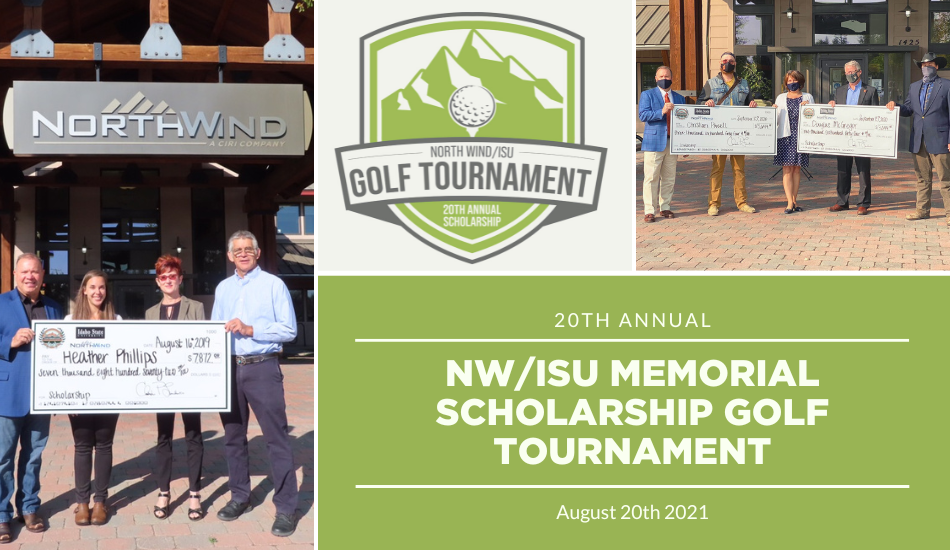 20th Annual Golf Tournament Scholarships
North Wind Group is pleased to announce that the 20th Annual North Wind/Idaho State University Scholarship was awarded to two Idaho State University (ISU) students, Beverlly Victoria and Ruth Andrews, for $3,987 to each.

"North Wind is proud to continue the partnership with ISU to grow the scholarship and reach to students in STEM majors. We feel our time, effort, and investment into this scholarship is important to our industry's future leaders," said North Wind Group President/CEO, Chris Leichtweis.

Victoria is a freshman at ISU, obtaining her Bachelor of Science degree in Ecology and Conservation Biology. She is interested in protecting animals and natural resources from extinction.
"Thanks to all of you for selecting me for the scholarship. The scholarship means being a step closer to the professional I want to become. I believe in my strengths and capacities to achieve great things, but because of your generosity, my goals are becoming true. I want to thank all the people who was part of this process because all of you have definitely improved my present and added to my future," said Victoria.
Andrews is a senior at ISU, obtaining her Bachelor of Science in Organismal Biology with a minor in Geology. She plans to pursue a master's degree in vertebrate paleontology after obtaining her undergraduate degree.
"The scholarship endowment has provided $52,875 in scholarships to twenty-three (23) ISU students majoring in Geology and Biology since its inception in 2001. This generous endowment from North Wind allows some of ISU's best students to pursue their dreams and find an excellent career. As additional contributions are added to the balance interest will accumulate and we will be able to distribute more scholarship funds to an increasing number of ISU College of Science and Engineering students," said Scott Snyder, Dean of College of Science and Engineering, Idaho State University.
Tom Sherwood was one of North Wind's first employees and was the Geosciences Department Manager until his untimely death in 2000. He was a consummate outdoorsman with a passion for geology and the environment. He graduated from ISU in 1992 with degrees in geology and biology. The scholarship endowment was established by North Wind with contributions from the company, Tom's friends and colleagues, and proceeds from previous golf tournaments.