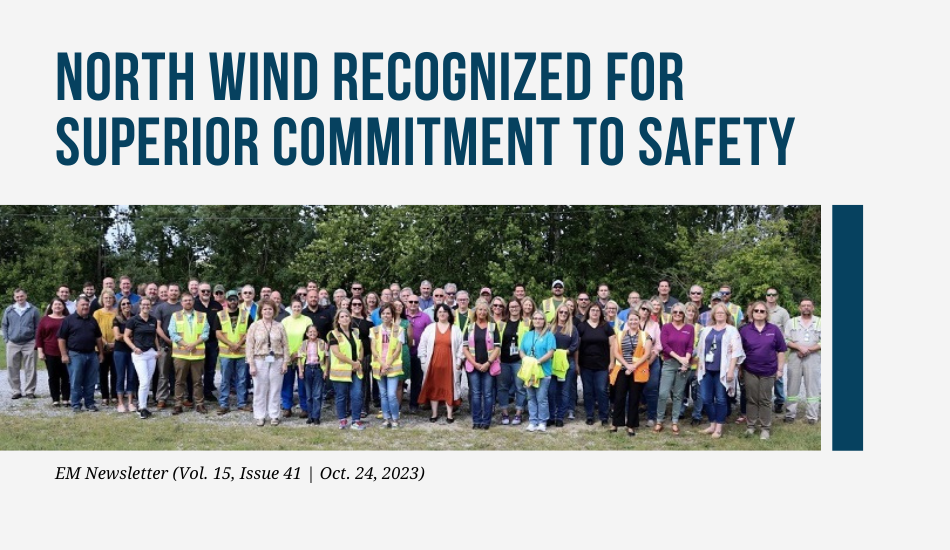 North Wind Recognized for Superior Commitment to Safety
North Wind was recently recognized in the EM Newsletter, with an article authored by our very own Matthew Miller, CSP, ESH&Q Manager.
Portsmouth Infrastructure Contractor Creates Dynasty in Safety
–
Pike County, Ohio
– EM's infrastructure support services contractor at the Portsmouth Gaseous Diffusion Plant has marked 2 million consecutive safe work hours — or zero recordable injuries and illnesses — since the inception of its contract in 2016.
"I am proud of the attention to safety North Wind has exhibited over the last seven years," Portsmouth Site Lead Jeremy Davis said. "Safety is always a top priority at the Portsmouth Site, so it's important we recognize our contractor's commitment to these high standards."
North Wind's scope of work includes roads and grounds, janitorial, shipping and receiving, facility maintenance, information technology, security and records. North Wind crews also complete several special construction projects, including paving, culvert replacement and renovations. North Wind employees relate their success to their partnership and collaboration with DOE and the local United Steelworkers, along with implementation of the DOE Worker Safety and Health Program, the Integrated Safety Management System and employee safety culture. North Wind's motto is "Where Safety Leads, Performance Follows."
The DOE's Voluntary Protection Program has awarded the company four Star of Excellence awards and two Legacy of Stars awards.
**Credit to the Department of Energy Office of Environmental Management weekly newsletter: (Vol. 15, Issue 41 | Oct. 24, 2023)