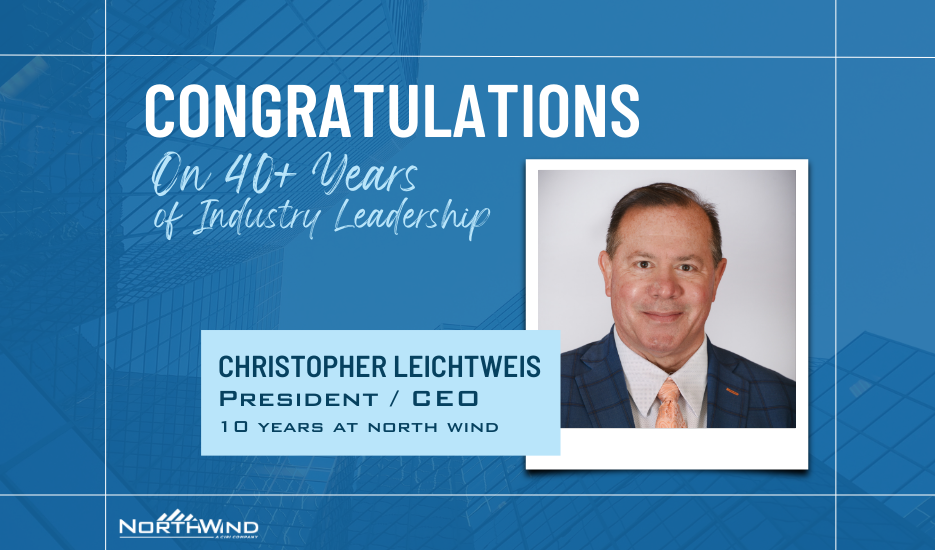 North Wind Group President/CEO Chooses to Transition Out 
Christopher P. Leichtweis steps down after 10 years of success
IDAHO FALLS, ID – June 13, 2023 North Wind Group (North Wind) President/CEO Christopher P. Leichtweis, MBA, CIH, has decided to step down from his position after 10 years of steadfast leadership as he embarks on the next phase of what has already been a remarkable and successful career. Mr. Leichtweis will remain with the North Wind Group through December 31, 2023, to ensure a smooth and orderly transition.
"We have built a great plan, with a great team and we have a sustainable business model, it's time for me to step down to let others step up," said Leichtweis.
The CIRI Development Corporation, dba North Wind Group is a wholly owned subsidiary of Cook Inlet Region, Inc. (CIRI). The CIRI Development Corporation Board of Directors (CDC Board) and Mr. Leichtweis shared the news with North Wind employees. The CDC Board fully supports Mr. Leichtweis in his decision and sincerely thanks him for his hard work and dedication to North Wind and CIRI's missions and serving our company over the last decade.
The CDC Board and Mr. Leichtweis are confident in the strength of North Wind Group's leadership team and in the next phase of growth, which will look to build on the successes already in place and continue to thrive under the new leadership. With the support of Mr. Leichtweis and an executive search firm, the CDC Board and NWG are actively engaged in succession planning efforts.
Mr. Leichtweis has led the North Wind Group since 2013, currently serving as President/CEO, and was previously Chief Strategy Officer. With his team, North Wind has grown to a thriving sustainable company of approximately 2,000 employees with revenues approaching $600 million.
"North Wind Group will continue to thrive thanks to the strong foundation Mr. Leichtweis helped build. We look forward to working with North Wind Group's exceptional leadership team and the future President/CEO to propel the company forward in its next chapter," said CIRI Development Corporation Board Chair Sophie Minich.
Under his direction, North Wind Group produced exceptional results and emerged as a leader in the environmental, engineering, facility operations, construction, IT/Cyber, and professional services industries. Mr. Leichtweis and the CDC Board are working together to ensure this will be a smooth transition.
"This was a difficult decision, but I am excited to spend more quality time with my family," said Leichtweis. "I am very proud of this team and feel confident that the company is in great hands with our top leadership. They are prepared for the future, and I have no doubt that North Wind Group will continue to thrive."
"The CDC Board is immensely proud of what NWG has accomplished, together and as individuals, entrepreneurs, leaders of the industry and servants to CIRI Shareholders and Descendants," said Board Chair Sophie Minich. "The CDC Board thanks Mr. Leichtweis for his 10 years of dedication and wishes him the best as he concludes his tenure as President/CEO."
"As I reflect on my time at North Wind Group, I am filled with a sense of gratitude for the talented team of professionals that I have had the pleasure of working with at all levels of the organization," said Leichtweis. "It has been an honor and privilege to revitalize and lead this company over the past 10 years, and I am immensely proud of what we have accomplished."
Leichtweis added, "I would like to thank the CDC Board for the trust and support during my tenure as President/CEO. I will always look back on my time at North Wind with fondness and gratitude for the opportunities and experiences that it has provided me. It has been a fantastic ride."
The Board of Directors is seeking qualified candidates that can continue the strong growth and leadership that occurred under Mr. Leichtweis. Qualified candidates will have a proven track record as a company leader, driving results through M&A and organic growth. If you would like to learn more about the position, please contact third-party executive search firm NorthWind Partners' Managing Director Jonathan Rice at jonathan@northwindpartners.com.