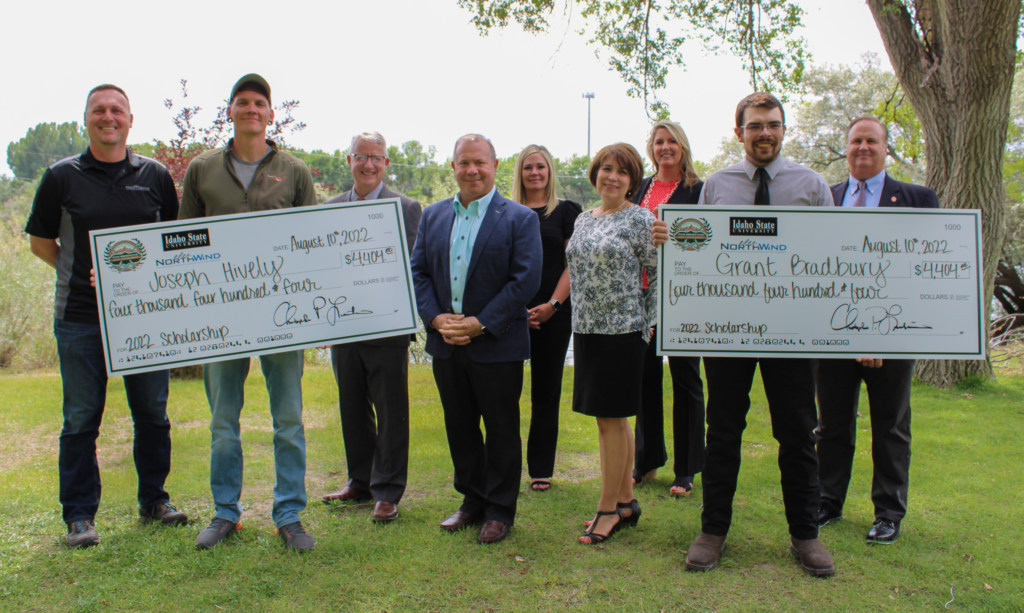 North Wind Awards 21st Annual Scholarship to ISU Students and Starts Second Scholarship
Idaho Falls, Idaho – North Wind Group is pleased to announce that the 21st Annual North Wind/Idaho State University Scholarship was awarded to two Idaho State University (ISU) students, Grant Bradbury and Joseph Hively for $4,404 each. Idaho Falls Mayor, Rebecca Casper, several North Wind employees, and ISU faculty and students attended the check presentation event.
"After 21 years, North Wind is still proud to continue the partnership with ISU to grow the scholarship and reach students in Geology and Biology majors. We feel our time, effort, and investment into this scholarship is important to our industry's future leaders," said North Wind Group President/CEO, Christopher P. Leichtweis.
Bradbury is a senior at ISU, obtaining his Bachelor of Science degree in Geology. He is interested in becoming an Exploration Geologist in the Mining Industry.
"I am deeply honored to be selected as one of the recipients of the Thomas R. Sherwood Memorial Scholarship. I am excited to use this scholarship to further my education and prepare myself for my career and I hope that someday I am able to give back to my community as generously as you," said Bradbury.
Hively is a sophomore at ISU, obtaining his Bachelor of Science in Ecology and Conservation Biology. He plans to pursue a career with the United States Forest Service and support conservation efforts.
"Success is knowing we are on the right path and not alone on the journey," said Hively.
"The Tom Sherwood scholarship endowment has provided $61,683 in scholarships to twenty-five (25) ISU students majoring in Geology and Biology since its inception in 2001. This generous endowment from North Wind allows some of ISU's best students to pursue their dreams and find an excellent career," said Scott Snyder, Dean of College of Science and Engineering, Idaho State University.
Tom Sherwood was one of North Wind's first employees and was the Geosciences Department Manager until his untimely death in 2000. He was a consummate outdoorsman with a passion for geology and the environment. He graduated from ISU in 1992 with degrees in geology and biology. North Wind established the scholarship endowment with contributions from the company, Tom's friends, and colleagues, and proceeds from previous golf tournaments. The scholarship has been so successful that North Wind has established a second scholarship for ISU students majoring in science, technology, engineering, and mathematics (STEM) degrees to broaden their reach and impact on students.
"We're excited to officially announce that we've established a second scholarship, the North Wind Group STEM Scholarship Endowment to help support and inspire ISU students to pursue further education in the fields of STEM," said Leichtweis.
Pictured above left to right: Beau Johnston, North Wind North-Central Regional Director; Joseph Hively, ISU Scholarship recipient; Scott Snyder, ISU Dean of College of Science and Engineering; Christopher P. Leichtweis, North Wind President/CEO; Debbie Morgan, North Wind Chief of Staff; Rebecca Casper, Idaho Falls Mayor; Anne Smith, North Wind Director of Communications & Marketing; Grant Bradbury, ISU Scholarship recipient; Cameron Brooks, Senior Director of Development for ISU's College of Science and Engineering.