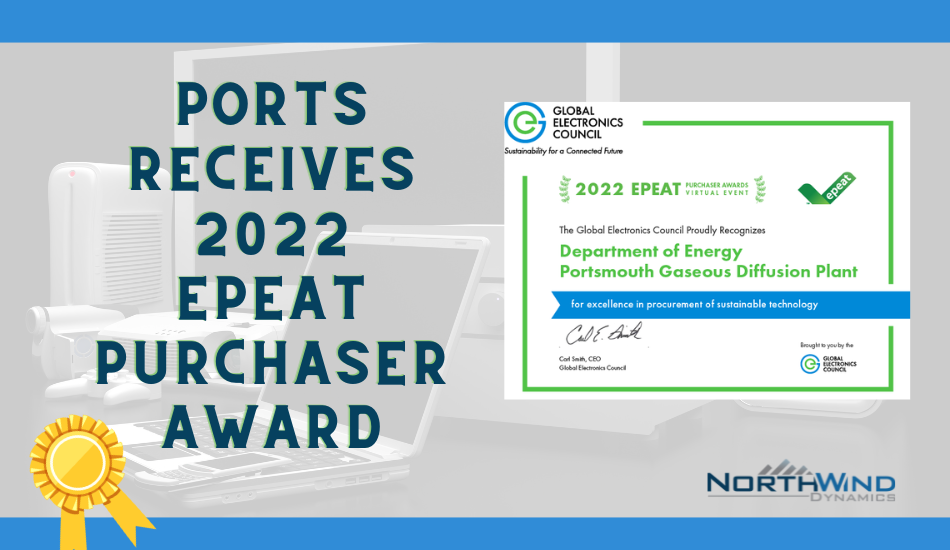 DOE Portsmouth Site (PORTS) has been recognized as a 2022 EPEAT Purchase Award winner.
The Department of Energy Portsmouth Site (PORTS) has been recognized as a 2022 Electronic Product Environmental Assessment Tool (EPEAT) Purchaser Award winner, which celebrates leaders in sustainable electronics procurement. The award comes from the Global Electronics Council (GEC), the non-profit organization that manages the EPEAT ecolabel. PORTS received the four-star award for procurements of Information Technology products, which included purchasing electronics with the EPEAT ecolabel in the following categories: computers and displays (including desktops, notebooks, workstations, integrated systems, and tablets); imaging equipment (copiers, scanners, multi-function devices); mobile phones; and televisions.
PORTS subcontractors, led by the Infrastructure Support Services contractor North Wind Dynamics, use EPEAT in purchasing contracts and procurements to require that vendors only provide electronics that meet strict sustainability criteria. These products are more energy efficient, less toxic, longer lasting, and easier to recycle than products that do not meet EPEAT criteria while addressing labor and human rights issues along the entire supply chain. Purchasing sustainable electronics demonstrates the commitment PORTS has in sustainable practices and proactive environmental management.
As a winner, PORTS received a calculation of the environmental and cost benefits associated with our EPEAT-registered purchases, as demonstrated in this infographic provided by GEC.
The EPEAT Purchaser Award recognizes organizations for excellence in sustainable procurement of electronic equipment. PORTS is proud to have received this recognition and is committed to the continued procurement of sustainable electronics. "Nate and the Team have made a conscious effort to promote sustainability at Portsmouth. I couldn't be prouder of the Team and their ability to maintain this recognition year after year," said Brent Clark, North Wind Dynamics President.