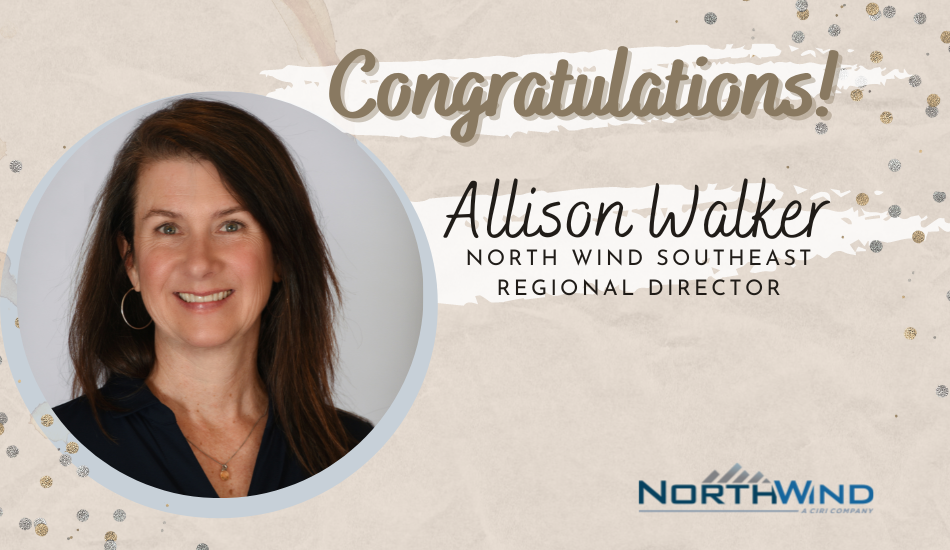 Congratulations to Allison Walker, New North Wind Southeast Regional Director
North Wind is proud to announce our new Southeast Regional Director, effective February 28, 2022, is Allison Walker, PMP.
Ms. Walker replaces Scott Hood, PMP who is retiring at the beginning of March.
"I have been lucky to work with Scott Hood in various capacities for over 35 years, and I am excited for him and wish him well in his retirement. He is a leader in our industry and will be missed," said Christopher P. Leichtweis, President/CEO of North Wind Group. "I have full confidence that Allison will lead the Southeast region with energy and innovation."
Allison has over two decades of experience in project management, business processes, communications, contract administration, and customer relations. She manages the twenty-person technical staff in the Greenville and Aiken, SC offices who support approximately 50 active projects for commercial, state, and federal government clients. She has experience as a Project Manager with the US Corps of Engineers, US Air Force, and Department of Energy. As Deputy SE Region Manager, she has been responsible for environmental operations support for all North Wind offices in the Southeast Region, as well as provided support for transitions and various nationwide initiatives for North Wind. Allison is starting her 12th year at North Wind and is a registered Project Management Professional (PMP). She has a B.A. in English from Wake Forest University, and an MBA from Oregon State University.
"I have thoroughly enjoyed my time here at NW and especially all the great people I have had the opportunity to get to know and work with," said Scott Hood. "When I took this position, I was lucky to have Allison as one of my deputies. She is very talented in many ways and knows the NW systems in and out and will do a fantastic job in her new position."