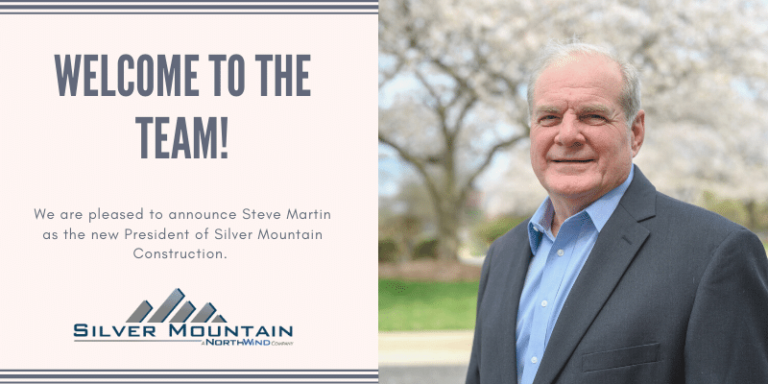 North Wind's Silver Mountain Construction Management Change
Effective immediately, Stephen C. Martin (Steve) has been appointed as President of Silver Mountain Construction, LLC, a North Wind Company. For 39 years, Steve has served in project and program management roles in both the private and federal sectors of the construction industry, to include international and domestic projects ranging from $500K to $1.3B. During his 26-year tenure at companies such as Bechtel and Fluor, he worked in the United States, Philippines, Singapore, Malaysia, Thailand, Taiwan, China, Indonesia, Belgium, Australia and India. His experience includes successfully managing and delivering projects to companies such as Procter & Gamble, DuPont, AT&T, Philips Semiconductor, Taiwan Semiconductor Manufacturing Company, LSI Logic Corp, GlaxoSmithKline, Pfizer, Schering Plough, Carolina Power and Light, Dayton Power and Light, Mississippi Power and Light, and Union Electric. In the government sector, Steve has been integral in winning awards at the Pentagon, and with multiple federal agencies such as USACE, NAVFAC, DOS, ASAID, DHS, VA, and GSA. Federal projects range in size from $1M – $250M and vary between short term firm fixed price, as well as long term IDIQ's and MACC contracts.
Most recently, Steve served as General Manager of ARS Aleut Construction, maintaining operational and financial responsibility for all aspects of the company.
"We are excited to welcome Steve into the leadership role. He has extensive experience in all aspects of construction management, and we are looking forward to his leadership as the President of Silver Mountain," said Chris Leichtweis, North Wind President/CEO. "Additionally, I want to express my gratitude to Brent Brooks for stepping up and acting at Silver Mountain's interim President since April 2019."
Since 2012, Silver Mountain has performed over $52 million in a variety of construction projects ranging from design-build to repair and renovation in a variety of locations. Silver Mountain manages both task order IDIQ contracts as well as competitive bid and sole source projects, including 100% design, design-build, demolition, facilities repair, DOD fuels systems, and new construction. Silver Mountain is a certified 8(a) small disadvantaged business headquartered in Alaska with offices nationwide.
"It's been a pleasure to lead such a dedicated group of individuals in diverse construction projects. I know Steve will be a great leader for Silver Mountain, its employees, and clients," said Brent Brooks, North Wind Construction Services President.
Silver Mountain Construction, LLC merged with North Wind Group in January 2018. The Construction services business line, led by Brent Brooks, also includes leadership from Tom Selmer, President of Weldin Construction and Steve Martin, *President of Silver Mountain Construction.
*The appointment of Steve Martin will be official pending CIRI Development Corporation (CDC) board approval.