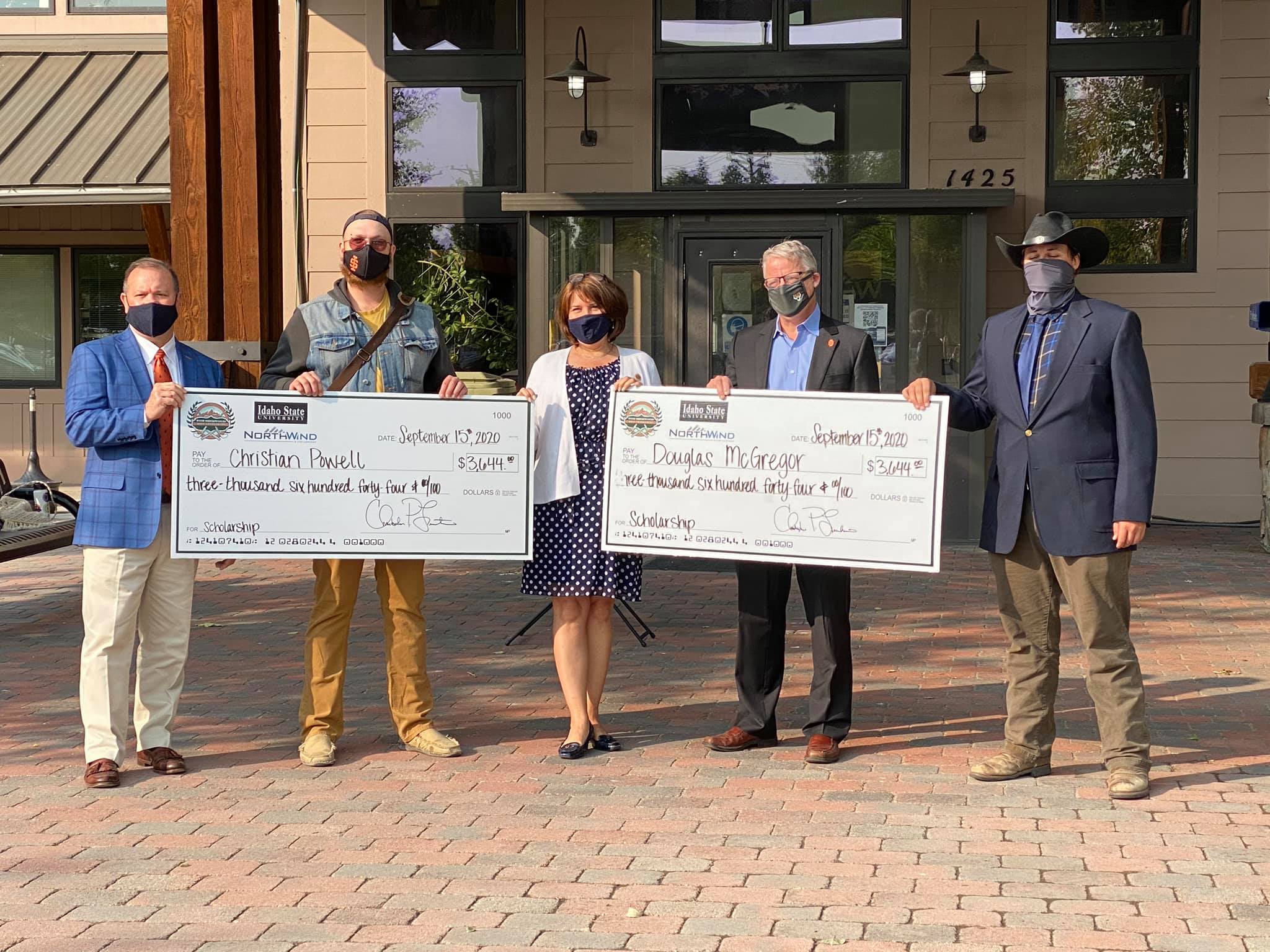 North Wind Awards 19th Annual Scholarship to ISU Students
North Wind Group is pleased to announce that the 19th Annual Tom Sherwood Memorial Scholarship was awarded to two Idaho State University (ISU) students, Douglas McGregor and Christian Powell, for $3,644 to each.
"North Wind is proud to partner with ISU and continuously support such a deserving scholarship fund, as we feel it is an important investment into the future leaders in our industry," said North Wind Group President/CEO, Chris Leichtweis.
McGregor is a senior at ISU, obtaining his Bachelor of Science degree in Geology with an emphasis in Paleontology. He works at the Idaho Museum of Natural History on campus and after graduation wants to work in a fossil prep laboratory at a museum.
"This scholarship is an amazing tool for adults to use to achieve their scholastic goals and become independent," said McGregor.
Powell is a senior at ISU, obtaining his Bachelor of Science in Biology with an emphasis in Ecology and Conservation. He plans to pursue a master's degree as well after spending some time working in this interesting field.
"This scholarship means I can finish my degree. With the pandemic, work has been scarce, and this allows me to focus more on academics and less on finding work immediately," said Powell.
"The scholarship endowment has provided nearly $50,000 in scholarships to twenty-two (22) ISU students majoring in Geology and Biology since its inception in 2001. This generous endowment from North Wind allows some of ISU's best students to pursue their dreams and find an excellent career. As additional contributions are added to the balance interest will accumulate and we will be able to distribute more scholarship funds to an increasing number of ISU College of Science and Engineering students," said Scott Snyder, Dean of College of Science and Engineering, Idaho State University.
Tom Sherwood was one of North Wind's first employees and was the Geosciences Department Manager until his untimely death in 2000. He was a consummate outdoorsman with a passion for geology and the environment. He graduated from ISU in 1992 with degrees in geology and biology. The scholarship endowment was established by North Wind with contributions from the company, Tom's friends and colleagues, and proceeds from previous golf tournaments.
Pictured left to right: Chris Leichtweis, North Wind Group CEO/President; Christian Powell, ISU scholarship recipient; Mayor Rebecca Casper of Idaho Falls; Dr. Scott Snyder, Dean of the College of Science and Engineering; and Douglas McGregor ISU scholarship recipient.